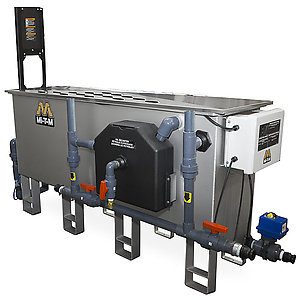 The mechanical oil/water separator system is designed to remove free oils from wash water before discharging to sanitary sewer. Applications for this system are vast and include cars, equipment, ATV's and recreational vehicles.
The oils/water/solids separator will reduce the amount of suspended solids while removing hydrocarbons to meet local sanitary sewer discharge requirements.
The Mi-T-M's WOS Series consists of above-ground oil/water/solids separators designed to discharge equipment and vehicle wash water into sanitary sewer.
The WOS Series offers the following features:
Ozone, Stainless-steel tank, Capability of holding oil and solids, Takes up an extremely small footprint, Easy to maintain, CSA approved control panel which meets the requirements of the US and Canada standards for an Industrial Control Panel, 1.0HP surface-mount sump pump, CSA listed NEMA-4 rated corrosion-proof control panel for safe and reliable operation, sloped bottom design for easier solids removal.
More applications the WOS is great for:
Rental yards, Heavy equipment washing, Trucking facilities, Truck rental fleets, Diesel repair facilities, Forklift washing operations, Aircraft maintenance and restoration, Shipyards, Municipalities/State DOT's, Oil fields, Engine rebuilders and manufactures, Military bases.
Models Available are the WOS-15-0M10 120V, 1 phase, 15.0A and the WOS-15-0M30 208-230V, 3 phase, 5.0A
Additionally, the importance of a proper pit system to accompany the WOS is crucial. Once equipment is washed, the untreated wash water flows into a pit system. This is the first step in proper wash water treatment and a critical element in any wash water recycling system.
Contact US Hydrotech today to talk to an expert about the WOS systems and how best it can fit your application.