As the rain gets underway, Sonoma County will have a new threat after the fires that decimated the area. The charcoal covered ground is susceptible to erosion due to the lack of vegetation holding it together.
Erosion is dangerous because it loosens the underlying layer of soil and can result in landslides. Erosion prevents vegetation from growing back and reestablishing a hold on hillsides.
There are a few solutions out there that can help with erosion control and the one that comes to mind usually first for anyone are straw wattles. Straw wattles are not the best solution because they will become heavy with water, produce odors from not being able to breath and eventually have weeds and grass grow into them and result in a labor intensive clean-up.
US Hydrotech provides a solution to this old way of doing business with erosion control. Ertec reusable wattles are sturdy, lightweight, efficient and economical. They can be installed with ease and allow water to filter through them as to not create backup which can produce odors.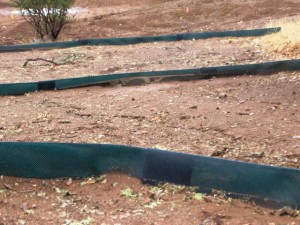 There are many different variations of Ertec that can be custom made to the application as to provide the best possible solution.
Visit US Hydrotech.com for more information.