The firestorms that ravaged Sonoma County over the last few weeks have left devastation in their wake and now the long hard clean up begins.
The Porta-Pad is a versatile system built to withstand the most harshest environments.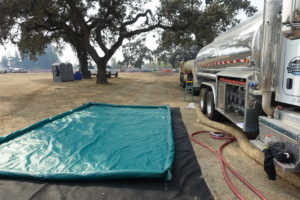 During the fires, US Hydortech teamed up with North Bay Petroleum to help fuel fire vehicles and keep contaminants such as oil and gas contained in a safe area. The Porta-Pad was installed temporarily next to the fuel trucks so the fire trucks could drive on them and then begin the fueling process. Once the fueling process was complete, the fire trucks would drive off and continue their work.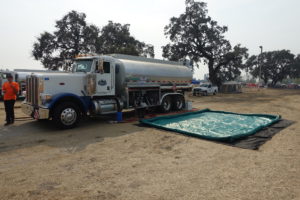 A quick sweep with a broom helped keep the grass, dust and dirt separate from the oil and gas as to not create a hazardous material situation.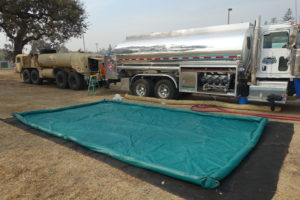 The Porta-Pad was installed quickly and was operational within minutes. It withstood the constant pounding of heavy fire trucks for two days straight.
It was then rolled up and taken away to be reused at the next location.