Trailer-Mount Pressure Washers are a convenient way to mobilize heavy duty systems to get the job done quickly and efficiently. These trailers are customizable to fit many applications. Pair these robust trailers with an industrial pressure washer and you can clean dirt and grime anywhere, anytime. These mobile pressure washer trailers and built tough, making them the perfect solution for cleaning in rugged and remote sites.
Features include jack with pad, 2 inch ball hitch, rubber mounted sealed lights, tanks are enclosed in a powder coated steel frame, will fit all belt-driven pressure washers, 1/4-inch solid steel trailer deck plate, aluminum treadplate steps for access to water tank, storage area located under the water tanks, 200 gallon water tanks plumbed together.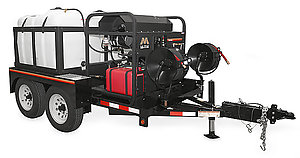 Accessories include:
Hight pressure hose reels, Low pressure hose reels, replacement hose reel parts, backflow preventers, trailer tank bypass, trailer hitches.
Contact US Hydrotech Environmental Solutions today for your free estimate on a customizable trailer to fit your needs!